It is easy to participate in the Healthy Water, Healthy Aging™ project. We have outlined the five steps below with How To videos for additional guidance. If you have any questions about the steps presented, please contact us at arsenic@mdibl.org.
University of New England's Center for Excellence in Aging and Health has joined with MDI Biological Laboratory in developing a survey for members of the Legacy Scholars program and other Mainers age 55+ who want to share information about their home drinking water. Be sure to add your address to the survey to receive your free water sampling kit!
STEP 1: Take Survey
Click on the link above to complete the survey. You will be asked whether you want a free test kit. If you say "yes" then you will be sent a test kit for arsenic and other toxic metals. .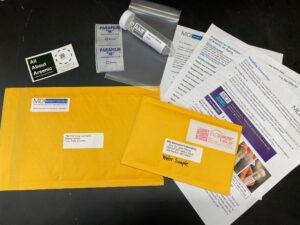 STEP 2: Open Water Sampling Kit
Itemized list of kit contents at link above and picture to the right.
STEP 5: Check Your Results!
Your samples will be sent to the Dartmouth Trace Element Analysis Core for testing. We will notify you when results are available by email. You can check your results by adding your sample number (located on magnet) to the sample look up box on the right:
NEXT STEPS: Click here to learn more about EPA Standards for Drinking Water Contaminants and other helpful resources.