Curriculum ideas, resources, and materials can be found here.
Orchards, Gardens and Fields overview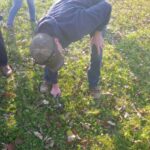 What is citizen science? Citizen science has many names and definitions, but in general, it's all about people getting involved in scientific data collection, analysis, or reporting. That means you! What does citizen science look like? One p...
Project Overview Project Checklist for Teachers Materials List Soil collection kits will be sent to teachers and partners. Each kit will contain: 1 Soil corer Protocol for sample collection Sample bags with ID labels Duplicate...