Collect 45 Milliliters of Water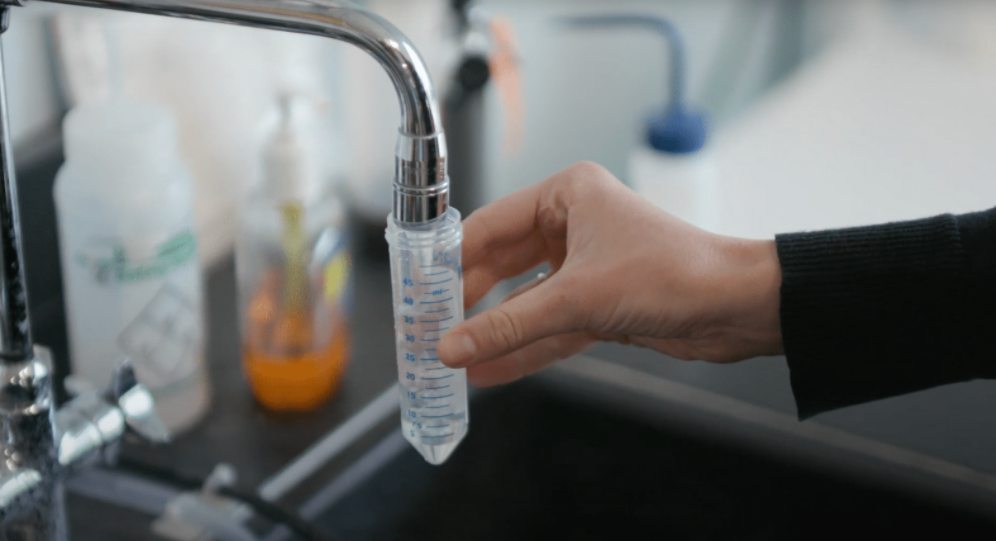 If you have well water, run your kitchen faucet for 5 minutes. If you are on public water, sample first thing in the morning before using your kitchen faucet. Do not bypass a kitchen sink filtration system.
Collect 45 ml. of water sample into the vial and cap. Dry the tube off, if necessary, without damaging the label. Remove the paper from the Parafilm™ sealing film and seal the tube with it. Do this by stretching the parafilm around the cap and sealing it to itself. It sticks!
Place the sealed tube into the small plastic bag supplied with your sample kit and seal.
Fill out the paper datasheet supplied with your sample kit and sign to give your permission for us to analyze your water sample. Samples will not be analyzed without this signature.
Return your sample in the postage paid envelope with your signed datasheet folded in eighths. That is the only sheet you need to return. There is no hurry, the samples are stable until you are ready to mail them.
Put your refrigerator magnet somewhere that you can find it later. You will want your sample number to look up your results when they are available. You can visit Step 5, then type your sample number into the "For Samplers" look-up tool to find your well water test results.